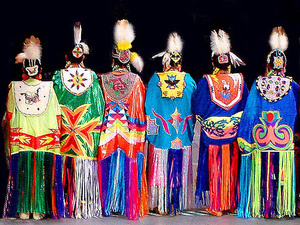 23rd Annual University of Iowa Powwow
The Field House will come alive in a colorful expression of song and dance on the weekend of April 15, 2017, when the students of the Native American Student Association (NASA) hold its 23rd Annual University of Iowa Powwow. In 2015, the event featured over one hundred and fifty American Indian dancers and singers representing many different Native Nations in the United States and Canada.
Powwows are social gatherings of hundreds of American Indians who follow dances started centuries ago by their ancestors and that continually evolve to include contemporary elements. Usually held between March and November, powwows are attended by Natives and non-Natives, all of whom join in the dancing and take advantage of the opportunity to see old friends and learn about American Indian culture.
The University of Iowa Powwow, a free public event, will be held at the UI Field House located on the University of Iowa campus at 225 South Grand. The University of Iowa Powwow is a wonderful opportunity to introduce the Iowa City area community to a contemporary-style powwow with all the song and dance, the diversity of tribal nations, and the arts and crafts vendors that accompaniy such events across Indian Country. The audience will see dancers representing different tribal nations in full regalia. Authentic Native arts and crafts may be purchased directly from noted jewelers and artisans.
Each powwow begins with the Grand Entry, a procession of all the dancers into the dance arena. Grand Entry will occur at 1 p.m. and 7 p.m. on Saturday, April 15. Doors open at 11 a.m. The event is free, and parking is readily available in Field House Lot and South Quad Lot. Hourly parking rate apply.
For additional information about the 23rd Annual University of Iowa Powwow, the general public may call 319-335-8298, email studorg-ui-nasa@uiowa.edu, or visit the NASA Powwow website at http://powwow.uiowa.edu
Native American Student Association
The University of Iowa
308 Melrose Ave.
Iowa City, IA 52242
t: 319-335-8298
e: studorg-ui-nasa@uiowa.edu
w: http://powwow.uiowa.edu
Individuals with disabilities are encouraged to attend all University of Iowa–sponsored events. If you are a person with a disability who requires a reasonable accommodation in order to participate in this program, please contact Tracy R. Peterson in advance at tracy-peterson@uiowa.edu or 319-335-5776.
Saturday, April 15, 2017 at 11:00am to 11:00pm
Field House, Main Gym
225 South Grand Avenue, Iowa City, Iowa
Event Type

Audience

Departments

General Interest

Tags

Website
Cost

FREE AND OPEN TO ALL

Contact Name

Tracy R. Peterson

Contact Email

Contact Phone Number

319-335-5776

Subscribe