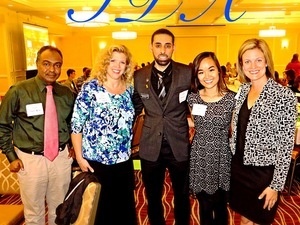 8th Annual IPA College Night at the University of Iowa
The Iowa Pharmacy Association (IPA) is excited to partner with the University of Iowa for the 8th Annual IPA College Night. IPA College Night is an opportunity for student pharmacists to learn about IPA, opportunities for involvement, and current issues impacting the profession. Additionally, attendees will have the opportunity to network with IPA Executive Officers and staff, faculty, and other leaders in pharmacy profession.
Registration and Networking 4:30 pm - 6:00 pm
Dinner and Programming 6:00 pm - 8:00 pm
This event is free for students, but registration is required. To register, please visit the Office of Academic Affairs by Sept. 12.
Individuals with disabilities are encouraged to attend all University of Iowa sponsored events. If you are a person with a disability who requires an accommodation in order to participate in this program, please contact Teresa Ahrens in advance.
Tuesday, September 19, 2017 at 4:30pm to 8:00pm
Sheraton Iowa City Hotel
210 S. Dubuque Street, Iowa City, IA
Event Type

Audience

Departments

Tags