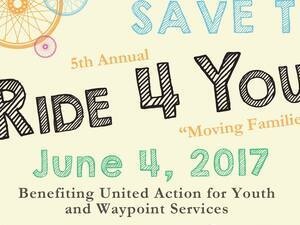 Ride 4 Youth - Annual Charity Bike Ride
Ride 4 Youth started in 2012 by members of the Boulware Learning Community at the University of Iowa Carver College of Medicine who were searching for a way to give back to the Iowa City community in which they lived and learned. Since then, Ride 4 Youth has continued to grow and raise money and awareness for United Action for Youth and Waypoint services.
The Ride
The ride has nine routes with varying distances and difficulty to allow biking pros and biking newbies alike to get out and pedal for a great cause. Last year, over 250 bicyclist rode to make a difference to those in need...this year we are expecting that number to increase significantly!
There will be two pre-start locations: one in Iowa City and one in Cedar Rapids. The rides will meet up for lunch and drinks in Solon. For details about the ride and routes, check out the Ride page!
We are encouraging cyclist from both Iowa City and Cedar Rapids to come together to help move local families forward!
Sunday, June 4, 2017 at 8:00am to 5:00pm
Event Type

Audience

Departments

General Interest

Tags

Website
Cost

$15 R4Y Superstar (fundraise an additional $250), $25 Students, and $35 for Non-Students

Hashtag

Contact Name

Matt Traxler

Contact Email

Contact Phone Number

319-384-1725

Subscribe