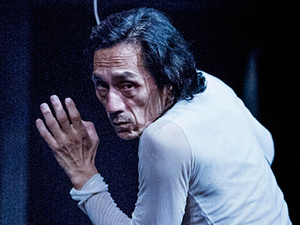 About Kazuo Ohno-A Dance Theatre Performance by Takao Kawaguchi
About Kazuo Ohno
A dance theatre performance by Takao Kawaguchi
The University of Iowa Department of Dance is proud to present Japanese performance artist Takao Kawaguchi on the North American premiere tour of his seminal dance theatre performance, About Kazuo Ohno. There are two shows of this free performance on Friday, September 30 and Saturday, October 1 at 8:00 p.m. in Space Place Theater.
About Kazuo Ohno is a recreation of three dances by legendary Japanese butoh master, Kazuo Ohno, including Admiring La Argentina (1977), My Mother (1981), and Dead Sea, Ghost, Wienerwalz (1986) by contemporary Japanese performance artist, Takao Kawaguchi. By imitating Ohno's dances as closely as possible, Kawaguchi also highlights the differences between his body and spirit and those of Ohno. In his artist statement for the piece, Kawaguchi states:
Usually characterized as largely improvisational, Ohno's dance is unique not only for his age but also for the distinctive features of his body and movements which are essential to his dance. An attempt to copy his dance as it is, no more no less, means nothing but to suspend whatever interpretation the copier may have as well as his own beliefs, and to project himself onto the forms and shapes of the old dancer as exactly as possible. The closer it gets, however, the clearer the gap becomes, minimum but inevitable no matter how hard the copier tries to diminish it. The paradox here is that this very gap, nonetheless, highlights the very distinct characteristics of the copier. The copy becomes original.
The viewer layers the reminiscence of Kazuo Ohno onto my body, and those who don't know Ohno's dance, their imagination of it. The multiple images of Ohno and myself merge, surface and recede in turn. About Kazuo Ohno is, in a sense, a duet I dance with the illusory image of Kazuo Ohno.
This seven-city tour of Takao Kawaguchi's About Kazuo Ohno is produced and organized by Japan Society, New York and supported by The Japan Foundation Performing Arts JAPAN Program, and Agency for Cultural Affairs, Government of Japan in the fiscal year 2016.
Saturday, October 1, 2016 at 8:00pm
Space Place Theater
20 W. Davenport St., Iowa City, IA
Event Type

Audience

Departments

General Interest

Website
Cost

Free

Contact Name

Department of Dance

Contact Email

Contact Phone Number

319.335.2228

Subscribe