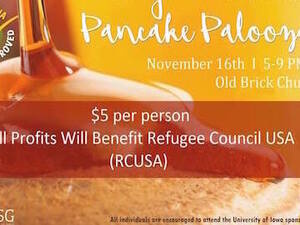 All-You-Can-Eat Pancake Palooza!
Due to the success of the event the last two years, we are rehosting our Refugee Pancake Dinner! For a $5 suggested donation, anyone can mix and match various ingredients as mix-ins and toppings for an unlimited pancake buffet. Because this event is being held in the middle of the university's Human Rights Student Collective's Refugee Awareness Week, all profits will be donated to the Refugee Council USA.
Refugees currently living in Iowa, refugee service providers, and scholars will be speaking throughout the night to help humanize the issue and shed light on the plight of refugees around the world. In addition, we're planning to provide information about the world's current refugee situation and opportunities for people to get involved.
This event is also Advantage Iowa and Greek Life (FSL) approved!
Individuals with disabilities are encouraged to attend all University of Iowa–sponsored events. If you are a person with a disability who requires a reasonable accommodation in order to participate in this program, please contact Liana Suleiman in advance at liana-suleiman@uiowa.edu
Thursday, November 16, 2017 at 5:00pm to 9:00pm
Old Brick 26 E Market St, Iowa City, IA 52245
Event Type

Audience

Departments

General Interest

Tags
Contact Name

Liana Suleiman

Contact Email

Subscribe