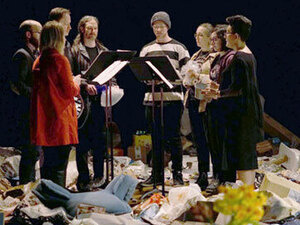 A.pe.ri.od.ic -Time with People "Trash Opera" By Tim Parkinson
Time With People (2013) is not an opera in the traditional sense. There are no characters, costumes, or even orchestral instruments. Instead, the stage is set with trash and other assorted objects. The soloists and chorus speak, dance, chant, and drum. And the only "classical" music comes from a recording.
Alternately funny, playful, perplexing, and sad, the work challenges audiences to reconsider their preconceived notions of the nature of music. Writing about the world-premiere performance, Lawrence Dunn remarked, "This is a world in which music is a kind of memory—something that must be reconstructed from the ground up, and afterwards returned to the same ground."
The piece hearkens back to the traditional sense of an opera as a collection of works, yet upends tradition by largely removing music and the orchestra, leaving behind only fragments, both musical and literal: recorded excerpts of Handel and Rossini begin and end the work, while a trash-strewn set serves as an orchestra of found objects as the performers wade through it.
The performance group a.pe.ri.od.ic, led by Nomi Epstein, is a collective of composers, instrumentalists and vocalists with experience in myriad experimental music practices. The group has a history of interpreting distinctive pieces using a collaborative rehearsal process, deriving meaning and intention from oblique prose scores with great sensitivity.
Presented by the Center for New Music
Sunday, October 22, 2017 at 3:00pm
Voxman Music Building, Stark Opera Studio
93 East Burlington Street, Iowa City, IA 52240
Event Type

Audience

Departments

General Interest

Tags
Group

Contact Name

David Gompper

Contact Email

Subscribe