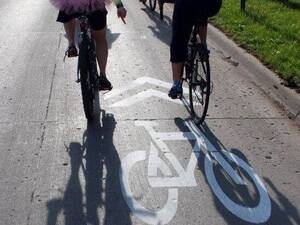 Bike Month: Writers and Riders Slow Roll
The first Slow Roll Detroit started as a way for cyclists of all abilities and ages to get acquainted with their city. Kick off Johnson County's first slow roll around sites special to our writerly history in University Heights - Iowa City. This ride is called Writers and Riders and will tour notable writerly sites in both towns. The ride begins at Happy Hollow Park and finishes at the University Heights Community Center, 1302 Melrose Ave., where riders will be able order Maggie's Farm Pizza for $10 each and watch a 30-minute documentary of long-time University Heights resident, Dottie Ray.
This ride is part of Bike Month 2017 in Johnson County.
Thursday, May 25 at 6:00pm to 9:00pm
Happy Hollow Park 800 Brown St. Iowa City, IA 52240
Event Type

Audience

Departments

General Interest

Website
Contact Name

Anne Duggan

Contact Email

Contact Phone Number

319-621-0221

Subscribe