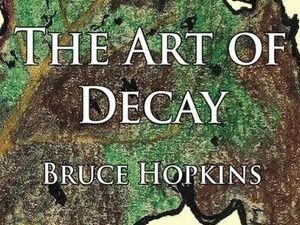 Live From Prairie Lights: Bruce Hopkins
Sioux City writer and artist Bruce Hopkins and his wife Jeannette will present The Art of Decay, published by Ice Cube Press.
In this collection of essays, poems, and drawings from his own personal journals, Bruce Hopkins reflects on the truth and beauty in nature, concentrating on how important it is to listen to the voices of nature, and to live our lives accordingly, from the moment of our arrival to the moment of our departure. After being diagnosed with Alzheimers disease in 2014, Hopkins chose to devote his mind and attention more fully to observation and creative expression in his journals. The relentless process of decay he explores is not only in the natural world, but his own decay as his mind is changed by Alzheimer's. As in nature, decay makes way for new things, including hope, renewal, and familiarity.
Dr. Bruce Hopkins is an educator, environmental writer, and historian. He and his wife, children's book author Jeanette Hopkins, have four daughters, eleven grandchildren, and one great-grandchild. Dr. Hopkins' previous books are When Foxes Wore Red Vests and Truth in the Rivers. His poetry has appeared in poetry journals throughout the United States.
Individuals with disabilities are encouraged to attend all University of Iowa–sponsored events. If you are a person with a disability who requires a reasonable accommodation in order to participate in this program, please contact Jan Weissmiller in advance at jan@prairielights.com.
Sunday, May 21, 2017 at 2:00pm
Prairie Lights Books
15 South Dubuque St., Iowa City, IA
Event Type

Audience

Departments

General Interest

Website
Cost

Free

Contact Name

Jan Weissmiller

Contact Email

Subscribe