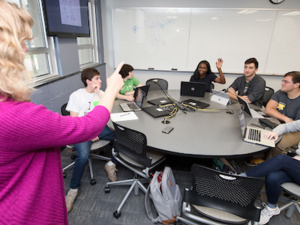 Challenging Conversations in the Classroom
A discussion of practical strategies for TAs to facilitate robust, inclusive, and civil discussions in the classroom.
Co-facilitated by Professor Christina Bohannan, College of Law
This workshop is intended for graduate students at the University of Iowa.
Individuals with disabilities are encouraged to attend all University of Iowa–sponsored events. If you are a person with a disability who requires a reasonable accommodation in order to participate in this program, please contact the Center for Teaching in advance at 319-335-6048.
Thursday, January 25 at 3:30pm to 5:30pm
University of Iowa Main Library, 1022 TILE
125 West Washington St. Iowa City, IA 52242-1420
Event Type

Audience

Departments

Website
Cost

free

Contact Name

Center for Teaching

Contact Email

Contact Phone Number

319-335-6048

Subscribe