On June 13, a new event calendar system will be launched. At that date, only events in the new system will be displayed. Please make sure all events after June 13 are added to
https://content.uiowa.edu
. You can find out more information about the transition on that site as well.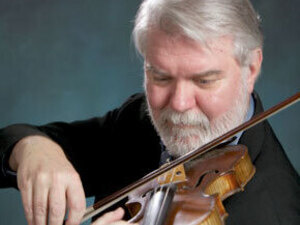 Guests: violinist Davis Brooks and composer Frank Felice
A recital of 20th and 21st-century music for solo violin and fixed media
The recital will include works by James Aikman, Patrick Long, Otto Luening, C. P. First, Hugh Levick, Tyler Entelisano, Thomas Wilson and Frank Felice.
Davis Brooks comes from a diverse musical background as soloist, pedagogue, orchestral musician, studio musician, concertmaster on Broadway, conductor, and chamber musician. His teaching experiences have included faculty appointments at Baylor University, Wayne State University, University of Wisconsin at Eau Claire, and Bucknell University. He is currently professor of violin at Butler University in Indianapolis, IN.
In addition to his present position as interim concertmaster of the Indianapolis Chamber Orchestra, Brooks was a member of the Mostly Mozart Orchestra at Lincoln Center for ten years, and he also was a member of the New York Chamber Symphony for nineteen years; an organization that produced over 20 critically acclaimed recordings during his tenure. He has been concertmaster of the Chamber Orchestra of New England, the Harrisburg Symphony (PA), and the Waco Symphony (TX).
Frank Felice is an eclectic composer who writes with a postmodern mischievousness: each piece speaks in its own language, and they can be by turns comedic/ironic, simple/complex, subtle/startling or humble/reverent. Recent projects of Felice's have taken a turn towards the sweeter side, exploring a consonant adiatonicism.
Frank currently teaches as an associate professor of composition, theory and electronic music in the School of Music, Jordan College of Arts at Butler University in Indianapolis, Indiana. In recent years he has been in demand as an electric and upright bassist, playing in various rock/funk/prog rock/big bands in the greater Indianapolis area.
Presented by the Center for New Music
PROGRAM
Otherworldly Shimmer (2016
for violin and electronic sounds
Tyler ENTELISANO (b. 1994)
Gargoyles (1937)
for violin and synthesized sound on tape
Otto LUENING (1900–1996)
The Reflections of My Introverted Sneakers (2016)
for violin and electronic sounds
Thomas L. WILSON (b. 1992)
Brace Yourself Like A Man (2001)
for violin and electronic sounds
Frank FELICE (b. 1961)
Strung Out (1967)
for amplified violin
Philip GLASS (b. 1937)
——— intermission ———
Fantasy (1991)
for violin and electronic sounds
James AIKMAN (b. 1959)
Shadow Steps (2001)
for violin and tape
Patrick LONG (b. 1959)
Nosotros (2004)
for violin and pre-recorded sounds
Hugh LEVICK (b. 1943)
Quatre Regards dans la Belle Jarre (2017)
for electric violin and Logic sounds
Frank FELICE (b. 1961)
Inquietude (2017)
for violin and electronic sounds
Filipe LEITAO (b. 1984)
Sunday, September 10, 2017 at 7:30pm
Voxman Music Building, Concert Hall
93 East Burlington Street, Iowa City, IA 52240
Event Type

Audience

Departments

General Interest

Tags
Group

Contact Name

David Gompper

Contact Email

Subscribe