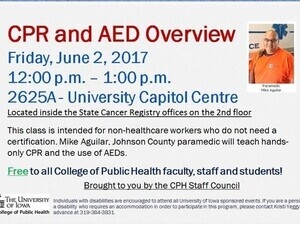 CPR and AED Overview
Friday, June 2, 2017
Noon – 1:00 p.m.
2625A – University Capitol Centre
Located inside the State Cancer Registry offices on the 2nd floor
This class is intended for non-healthcare workers who do not need a certification. Mike Aguilar, Johnson County paramedic, will teach hands-only CPR and the use of automated external defibrillators (AED).
Free to all College of Public Health faculty, staff, and students!
Brought to you by the CPH Staff Council.
Individuals with disabilities are encouraged to attend all University of Iowa sponsored events. If you are a person with a disability who requires an accommodation in order to participate in this program, please contact Kristi Yeggy in advance at 319-384-3831.
Friday, June 2, 2017 at 12:00pm to 1:00pm
University Capitol Centre, 2625A
200 South Capitol Street, Iowa City, Iowa
Event Type

Audience

Departments