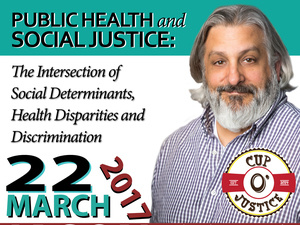 Cup O' Justice: Jason Daniel-Ulloa
Honoring the rich tradition of activism at the University of Iowa and in the surrounding community, Cup o' Justice is a yearlong series of discussions designed to bring change leaders together in shared learning. Each event promotes intergenerational and interdisciplinary dialogue about social justice, civil rights, and civic engagement.
Come join us for our next session "Public Health and Social Justice: The Intersection of Social Determinants, Health Disparities and Discrimination" with Jason Daniel-Ulloa, clinical associate professor in the College of Public Health at the University of Iowa.
Using examples from his research, classroom experiences and scientific literature, Daniel-Ulloa will guide a conversation focused on these issues, finishing with a discussion meant to develop potential strategies to limit or eliminate disparities in health in communities and students of color in or near Iowa City.
About Jason Daniel-Ulloa:
"I was born miles away from the Mexico border in Southern CA. Imperial Valley is a majority Latino farming community made up of several small towns about 100 miles East of San Diego. I was raised however in Ridgecrest a small nearly all white community surrounding a Naval Weapon Center-- Living in these two drastically different contexts have forever influenced my approach and attitude towards culture and community.
I am what some folks call a non-traditional student, failing/dropping out of three separate community colleges before starting at San Diego Mesa College at age 26. Prior to that, I spend my time between ages 18 and 26 as a waiter, cook, and bartender in everything from small independent own restaurants to large multi-national corporate restaurants/resorts in Los Angeles, Santa Barbara, Imperial Valley and Ridgecrest. These experiences have influenced how I look at and see the physical, social and cultural influences on health and health behaviors.
I spent nearly 15 years straight in college getting an AA in psychology, a BA in psychology, a Master's in Public Health and a PhD in Health Behavior Science. It has been just over 5 years since I defended my dissertation. In the past 20 years, I have been involved in or independently conducted research in HIV/STD prevention, prevention of tobacco smoke exposure, occupational risks of hospitality workers and of exotic dancers, cancer prevention, health of Latinos and the impact on health of masculine norms and identities. All of this work is guided and driven by a commitment to Public Health Advocacy and Social Justice as it relates to Health Equity.
I have also been committed to the success of students of color. As a Latino living and growing up in the academic culture, I understand how toxic this environment can be and I, with others, have worked as much as I can to create an environment to mediate or buffer the academic cultures impact on students of color, especially for undergraduates. I currently collaborate with colleagues in the College of Public Health to run the Health Equity Advancement Lab (HEAL) which provides mentoring and research opportunities for student interested in Health Equity and Social Justice."
Individuals with disabilities are encouraged to attend all University of Iowa–sponsored events. If you are a person with a disability who requires a reasonable accommodation in order to participate in this program, please contact Dana Dominguez in advance at dana-dominguez@uiowa.edu or 319-353-2388.
Wednesday, March 22, 2017 at 10:30am to 12:00pm
Iowa Memorial Union (IMU), 337 Penn State Room
125 North Madison Street, Iowa City, Iowa
Event Type

Audience

Departments

General Interest

Tags
Cost

Free

Hashtag

Contact Name

Dana Dominguez

Contact Email

Contact Phone Number

319-353-2388

Subscribe