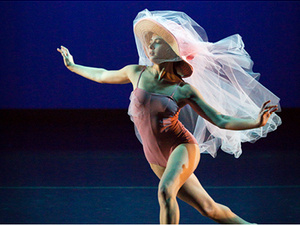 Dance Gala 2017
Presented by the Department of Dance
Dance Gala 2017 celebrates its return to Hancher with compelling new dances from the University of Iowa's highly-acclaimed Department of Dance. Experience the humor and athleticism of choreography by award-winning artist Monica Bill Barnes, whose time on campus as a teaching artist and performer is a collaboration with Hancher Auditorium, in the premiere of an original work created for Dance Gala, and witness the power and grace of dances created by internationally-renowned UI Dance faculty.
Kansas No More
Choreography by Charlotte Adams, in collaboration with the dancers
Digital media design by Daniel Fine
We're Not in Kansas Anymore, a collaboration created and directed by choreographer, Charlotte Adams and digital media designer, Daniel Fine, creates a collision of digital worlds and live dancers that leaves you wondering what is really real? The enchanting set literally opens doors to surprising changes that will take the audience on an adventure with five charming, daring dancers.
Ask the Beasts
Choreography by Kristin Marrs
Canções de Zunido e Rosas (Songs of Whistling & Roses)
Choreography by Armando Duarte
Canções de Zunido e Rosas (Songs of Whistling & Roses) is a newly edited version of a previous work that premiered in 2010. Composed by a collage of songs from Northeastern Brazil, the choreography explores the multi-faceted rhythms and lyrics presented in the soundtrack.
…at the receding edges (2006)
Choreography by Jennifer Kayle
This work was first staged in 2006/2007, both at the original Hancher Auditorium, and then for the American College Dance Association's regional conference where it was adjudicated and selected to appear in the North Central Gala concert. It was also curated and staged in Chicago for the Dance COLEctive, directed by Margi Cole. The photographic images that gave rise to the work included a stand of trees in the mist of the forest, dramatic scenes of wild horses – terrified creatures swimming desperately across flood waters in the Netherlands as they tried to reach tiny green patches of dry land for survival, and design photos of an underground home that was decorated with plastic astroturf carpet and painted with outdoor scenes on its walls. …at the receding edges meditates on the questions and contradictions that arose from these images, and creates a metaphoric space where we might wonder about our troubled relationship to the natural world, perhaps remembering that WE and IT are one and the same.
Interior Solitude
Choreography by Eloy Barragán, in collaboration with the dancers
Inspired by the life of Camille Claudel
Camille Claudel (1864 – 1934) student, assistant, and muse of August Rodin. Her incredible ability to transform still materials such as stone and metal into movement and emotion is part of the inspiration for Interior Solitude. Camille's sculpted movement created a language to communicate with liberation, passion, and seduction, to express negotiations between the fear and acceptance of the unknown – the beginning of death and life – disrupting the immediate flow of the events of her life. The unconsciousness of humanity towards the social injustice, such as racial, cultural, religious, and gender inequality in this present time is alarming. Barragán's hope with this work is to unfold and create awareness of inequality and mental/psychological abuse.
Leave it on the field
Choreography by Monica Bill Barnes
Leave it on the field is an athletic tour de force that captures the unique style and humor inherent in Monica Bill Barnes' work. In this new work created for the University of Iowa dancers, odd female characters tough it out in a dance that delights in its physicality, pop music, and humor.
This performance will use theatrical haze and strobe effects.
Pre-Show Talk at 7:00 p.m.
Prior to both performances, beginning at 7:00 p.m. in the Stanley Café at Hancher, UI Dance faculty will be present to discuss their creative process and some of works you will see in Dance Gala 2017. Student performers will also join the discussion.
UI Dance faculty choreographer Jennifer Kayle will moderate the discussion both evenings and will be joined by Armando Duarte and Kristin Marrs on Friday and by Charlotte Adams and Eloy Barragán on Saturday, in addition to Christopher Rasheem-McMillan, who is serving as rehearsal director for the Monica Bill Barnes work.
This talk is open to the public of all ages and the Department of Dance hopes that both longtime fans and newcomers will be encouraged to enjoy the pre-show atmosphere and take advantage of this informal exchange as a wonderful way to get even more enjoyment out of the performance.
Dance Gala 2017 is a designated CORD@50: Dance Studies on the Move event, celebrating the 50th anniversary of the Congress on Research in Dance.
Tickets:
$20 Adults
$15 Seniors (65+)
$10 Students & Youth
$5 UI Students (with valid ID)
A $100 Patron Ticket includes an $80 contribution to the UI Department of Dance through the UI Foundation.
Tickets are available through the Hancher Box Office at 319.335.1160 or 1.800.HANCHER or online at www.hancher.uiowa.edu/tickets.
PC Media is the proud media sponsor of Dance Gala 2017.
Saturday, November 11, 2017 at 8:00pm
Hancher Auditorium
141 Park Road, Iowa City, IA 52242
Event Type

Audience

Departments

General Interest

Tags

Website
Cost

$5-$20

Hashtag

Contact Name

Department of Dance

Contact Email

Contact Phone Number

319.335.2228

Subscribe