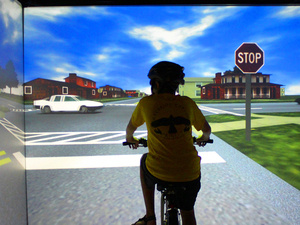 DeLTA Center Discussion Series - Computer and Game Based Approaches to Cognitive Research, Assessment and Instruction (Part 1: Avatars)
Please join us for a unique discussion series with the DeLTA Center motivated by the need to explore the impact of technology and its associated culture on our science and our practice. The series will feature two lines of inquiry, one focused on the use of virtual avatars in research and the other on the gamification of experiments.
A discussion of virtual avatars on November 17 will be led by Jodie Plumert (Psychological and Brain Sciences), Susan Cook (Psychological and Brain Sciences), and J.P. Hourcade (Computer Science). Dr. Plumert is the Starch Faculty Fellow of the Department of Psychological & Brain Sciences. She uses virtual environments to explore children's sense of space in a dynamically changing environment as well as how they make judgements about safe and unsafe actions. Susan Cook is an Associate Professor in the Department of Psychological and Brain Sciences. She uses avatars as part of her experiments on gesture and mathematical learning. J.P. Hourcade is an Associate Professor of Computer Science who develops interactive technology to support creativity, collaboration, well-being, healthy development, and information access for a variety of users, including children and older adults.
A discussion of gamification will follow on December 1, led by Deborah Reed (College of Education), Ben Devane (College of Education), Eliot Hazeltine (Psychological and Brain Sciences), and J.P. Hourcade (Computer Science). Dr. Reed is an Associate Professor and the Director of the Iowa Center for Reading Research. She has done work using technology in the context of reading assessment. Dr. Devane is an Assistant Professor in the College of Education. His research investigates how people learn about science inquiry and computational thinking with games and playful media. Dr. Hazeltine is a Professor of Psychological and Brain Sciences, and has done work on the neuroscience and psychology of feedback and reward.

+ Coffee, water, and pastries will be provided

Friday, November 17, 2017 at 9:00am to 10:30am
Lindquist Center, S204
240 South Madison Street, Iowa City, Iowa
Event Type

Audience

Departments

Tags
Contact Name

Reginald Gibson

Contact Email

Contact Phone Number

319-335-3607

Subscribe