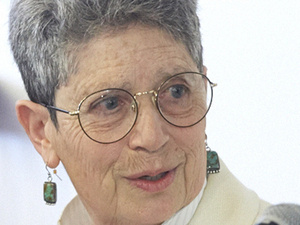 DeLTA Center Roundtable - Anne Fausto-Sterling (Brown University)
Anne Fausto-Sterling, Professor Emerita at Brown University, will be joining the DeLTA Center for a roundtable discussion, Gender and Development, on Friday March 3.
Professor Fausto-Sterling "is a leading expert in biology and gender development. Using a groundbreaking new approach to understanding gender differences, Dr. Fausto-Sterling is shifting old assumptions about how humans develop particular traits. Dynamic systems theory permits one to understand how cultural difference becomes bodily difference. By applying a dynamic systems approach to the study of human development, her work exposes the flawed premise of the nature versus nurture debate."
From Dr. Fausto-Sterling's website, 10 February 2017 http://www.annefaustosterling.com/.
Dr. Fausto-Sterling is visiting Iowa City for the Iowa City Darwin Day events of March 3-4. Her visit is sponsored in part by the DeLTA Center. Darwin Day was created in 2007 to celebrate the contributions of science to the advancements of humanity. To see all of the scheduled events, visit Iowa City Darwin Day on the web: Darwin Day Events.
DeLTA Center members will also be interested in Dr. Fausto-Sterling's talk, Evolution and Gender in the 21st Century, scheduled for March 4 at 12:00 PM in Macbride Auditorium. An abstract of that talk follows.
Abstract: In an era of alternative facts, fake news, and political leaders who reject evolutionary theory and climate change research, it seems imperative to defend science. But even in this historical moment feminists and anti-racists engage in a vigorous critique of mainstream science and the politics of knowledge production. How is it possible to defend science against know-nothing attacks from the right while still engaging the battle to improve the quality of scientific knowledge production viatrenchant critique from the left?
This talk engages in a critical exploration of research on the evolution of sex and gender to find out what it can teach us about developing an ethically responsible, politically conscious understanding of how science works. Without such critique and debate within science it will be hard to develop the unity needed to defend against assaults from without.
++ As always coffee, water, and breakfast snacks will be provided
Friday, March 3, 2017 at 9:00am to 10:30am
Lindquist Center, S204
240 South Madison Street, Iowa City, Iowa
Event Type

Audience

Departments

General Interest

Tags

Website
Contact Name

Reginald Gibson

Contact Email

Contact Phone Number

319-335-3607

Subscribe