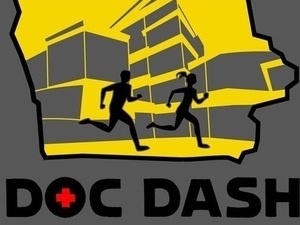 Annual Doc Dash 5K Race
The Doc Dash is a 5K race/walk that takes its route through the hospital campus and surrounding neighborhood. It is a 28-year tradition supported by the Carver College of Medicine and will take place this year at 9 AM on April 7th. A shorter children's race (dubbed the 'Doc-ling Dash') will start at 8:30 AM. In addition to healthcare professionals, the race is geared to the general public.
Who Does Doc Dash Support?
We donate all proceeds to the Iowa City Free Medical Clinic and the University of Iowa Mobile Clinic. These Iowa City organizations provide services to under-served populations who lack health insurance. Additionally, the Mobile Clinic draws its volunteers entirely from the College of Medicine and students of other healthcare disciplines to aid in the training of future healthcare professionals.
Saturday, April 7 at 7:30am to 12:00pm
Medical Education Research Facility, MERF Atrium
375 Newton Road, Iowa City, Iowa