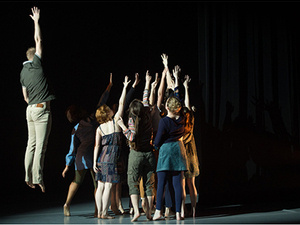 Faculty/Graduate Concert
Presented by the Department of Dance
All works choreographed by faculty and graduate students in the Department of Dance are brought to life on stage at Space Place Theater.
The following works will be performed:
When trees say nothing
Choreography by Kristin Marrs
Interplay
Choreography by Sarah Olson
A brief duet for two women, inspired by Gabriela Montero's improvisational take on Minuet in G Major by J. S. Bach.
Everyday Struggles
Choreography by Eduard Forehand
Quotidian's Gospel and The Lover's Bench
Choreography by Christopher-Rasheem McMillan, in collaboration with the dancers
This work is a partial queer reconstruction of Talley Beatty's The Mourner's Bench (1947).
Pretty good. Close enough.
Choreography by Meredith Stapleton
Ashes in the Air
Choreography by Eloy Barragán
Through the art of movement, music, design, and spoke word, Eloy Barragán is capturing, in an abstract manner, the life of Camille Claudel, as the inspiration to bring awareness to social injustice, inequality, and violence invading our daily life in the present time. Camille Claudel, muse and lover of August Rodin.
she is seeing
Choreography by Melinda Jean Myers, in collaboration with the dancers
MAKE WAY FOR MARTHAGANY
Choreography by Jesse Factor
Legend has it that residents of Iowa City have been encountering apparitions of Marthagany directly following the historic lightning storm on October 20, 2015. The ghost has been reported strutting down the pedestrian mall or being fierce on the Pentacrest. A recent Iowa City resident explained their experience of witnessing a vision of Marthagany on Madison Street as follows, "Mathagany is the most beautiful ghost I have ever seen. Marthagany is also very kind. She gave me a magic sequin that I put underneath my pillow and ever since I've slept with it there, my life has changed completely." Another witness relayed the following, "It was like being swept up in a hurricane of fabulousness. Seeing Marthagany inspired me to find my own charisma, uniqueness, nerve, and talent. I will never be the same." Be sure to catch MAKE WAY FOR MARTHAGANY.
Fresh, remixed
Choreography by Armando Duarte
Fresh, remixed was created during Armando Duarte's teaching of the first year seminar course in Fall 2017. The creative process was based on an early work (Fresh/1998) originally created for the freshman class of that year.
Tickets:
$14 Adults
$8 Seniors (65+)
$8 Students & Youth
FREE UI Students (with valid ID)
Tickets are available through the Hancher Box Office at 319.335.1160 or 1.800.HANCHER or online at www.hancher.uiowa.edu/tickets.
Saturday, February 10 at 8:00pm
Space Place Theater
20 W. Davenport St., Iowa City, IA
Event Type

Audience

Departments

General Interest

Tags

Website
Cost

$0-$14

Hashtag

Contact Name

Department of Dance

Contact Email

Contact Phone Number

319.335.2228

Subscribe