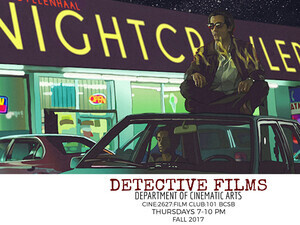 Film Club: 'Nightcrawler'
Join us for a screening of Nightcrawler (Dan Gilroy, 2014)!
Los Angeles denizen Louis Bloom (Jake Gyllenhaal) survives by scavenging and petty theft. He stumbles into a new career as a cameraman and -- armed with a camcorder and police scanner -- begins nocturnal forays across the city in search of shocking and grisly crimes. When he catches the eye of a shopworn news director (Rene Russo) who welcomes the chance to raise her station's ratings, Louis goes to increasingly greater lengths to catch the "money shot."
This screening is part of the Department of Cinematic Art's "Film Club" course on Detective Films. This is a 1 s.h. course open to non­majors and majors. The screening begins at 7:00 p.m. on Thursdays and is free and open to the public. Enrolled students remain after the screening to participate in a discussion of the film until 10:00 p.m. Course requirements are principally based upon screening attendance and active participation in post­screening discussion. No readings or written work required.
Individuals with disabilities are encouraged to attend all University of Iowa–sponsored events. If you are a person with a disability who requires a reasonable accommodation in order to participate in this program, please contact Amos Stailey-Young in advance at amos-stailey-young@uiowa.edu.
Thursday, December 7, 2017 at 7:00pm to 10:00pm
Becker Communication Studies Building, 101
25 South Madison Street, Iowa City, Iowa
Event Type

Audience

Departments

General Interest
Cost

Free

Contact Name

Amos Stailey-Young

Contact Email

Subscribe