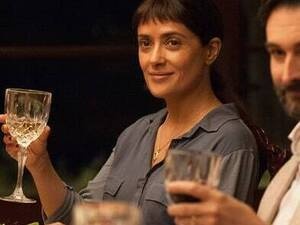 FilmScene Presents: "Beatriz at Dinner"
"It's quite something to watch, and watch it you should. Hayek gives a remarkable performance!" —Vanity Fair
"What begins as a sharply funny comedy of class conflict turns more political, and even poetic, in this latest film by the creative team of Arteta and White." —Anthony Kaufman, Screen International
At an elegant dinner party in a swanky hilltop home, conversation between a soft-spoken holistic healer (Salma Hayak) and a hard-nosed businessman (John Lithgow) explodes into a bitter clash of cultures in the latest provocative film from director Miguel Arteta and screenwriter Mike White (Chuck and Buck, The Good Girl).
Beatriz (Hayek), a self-effacing and spiritual immigrant from Mexico, has spent her adult life caring for the sick while neglecting herself. When her car breaks down and she is stranded at a client's luxurious Newport Beach home overnight, her well-meaning employer Kathy (Connie Britton) insists she join them for a dinner party that evening. At an intimate and sumptuous celebration of her husband's latest business venture, Beatriz is introduced to Doug Strutt (Lithgow), a ruthless billionaire real-estate developer. She listens uncomfortably while Doug brags about his aggressive business tactics, but when he boasts about shooting a rhino in Africa, she can no longer hold her tongue. As opposing worldviews collide over a dinner table, Beatriz's pent up outrage spills out in a way that surprises even herself.
Exploring the widening gulf between the world's haves and have-nots with fierce insight and unexpected humor, BEATRIZ AT DINNER addresses contemporary controversies, from economic inequality and conservation to the necessity of simple human kindness.
Open 6/23 see website for details
Individuals with disabilities are encouraged to attend all University of Iowa–sponsored events. If you are a person with a disability who requires a reasonable accommodation in order to participate in this program, please contact FilmScene in advance at 319-358-2555.
Thursday, July 13 at 6:00pm
FilmScene
118 E. College St., Iowa City, IA 52240
Event Type

General Interest

Website