On June 13, a new event calendar system will be launched. At that date, only events in the new system will be displayed. Please make sure all events after June 13 are added to
https://content.uiowa.edu
. You can find out more information about the transition on that site as well.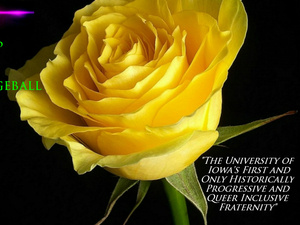 Game Night with DLP: Delta Lambda Phi Recruitment Fall 2017
Delta Lambda Phi is the University of Iowa's first and only historically progressive and queer inclusive fraternity.
Looking to make some new friends on campus this semester? Interested in learning more about our organization? Considering becoming a member of Delta Lambda Phi? We would love to see you at our recruitment events!
The schedule of events is as follows:
Monday, Aug. 28: Game Night with DLP
6–9 p.m. @ LGBT Resource Center
Thursday, Aug. 31: Water Balloon Dodgeball
6–8 p.m. @ College Green Park
Saturday, Sept. 2: Mini Golf
3–5 p.m. @ Airport National Golf Course, Cedar Rapids
Sunday, Sept. 3: Brotherhood Brunch
11 a.m.–1 p.m. @ Wesley Center, Iowa City
All events are free to attend. If you need transportation or accessibility accommodations, please email us at gammagamma.chapter@dlp.org and we would be happy to make it possible for you to attend.
We look forward to seeing you at our events!
Individuals with disabilities are encouraged to attend all University of Iowa–sponsored events. If you are a person with a disability who requires a reasonable accommodation in order to participate in this program, please contact Hunter Gillaspie in advance at hunter-gillaspie@uiowa.edu or 319-651-7454.
Monday, August 28, 2017 at 6:00pm to 9:00pm
LGBT Resource Center 125 Grand Ave. Ct., Iowa City, IA 52242