On June 13, a new event calendar system will be launched. At that date, only events in the new system will be displayed. Please make sure all events after June 13 are added to
https://content.uiowa.edu
. You can find out more information about the transition on that site as well.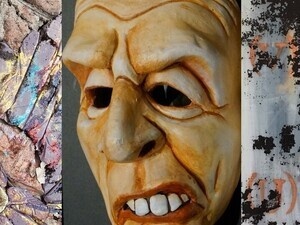 Grant Wood Fellows' Exhibition 2017–18
The culmination of a year's work will be on display for one month at the annual Grant Wood Fellows' Exhibition at C.S.P.S. Hall. Visitors are invited to view the work and speak with the current Grant Wood Fellows during the opening reception on May 3, from 5 to 8 p.m. Brandon Coley Cox, Joe DeVera, and Joe Osheroff will be on hand to discuss their practices and their experiences as Grant Wood Fellows.
Individuals with disabilities are encouraged to attend all University of Iowa–sponsored events. If you are a person with a disability who requires a reasonable accommodation in order to participate in this program, please contact Maura Pilcher in advance at grantwood@uiowa.edu.
Tuesday, May 22
More dates through June 3, 2018
CSPS Hall 103 3rd St SE, Cedar Rapids, IA 52401
Event Type

Audience

Departments

General Interest

Website
Cost

$0

Hashtag

Contact Name

Maura Pilcher

Contact Email

Subscribe