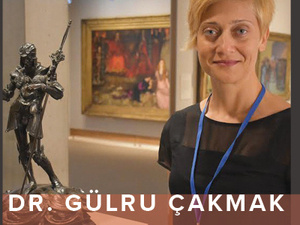 Gülru Çakmak - "Parodying the Past in Second Empire Paris: Jean-Léon Gérôme's Anachronistic Duelists"
The French painter Jean-Léon Gérôme's 1857 Salon blockbuster Duel after the Masquerade epitomizes the nineteenth-century's obsessive engagement with history. Populated by six masquerade-goers dressed in pseudo-historical costumes and carrying old-fashioned chivalresque swords, the painting offers a tragi-comedy in showing the conclusion to a duel. The costumes and weapons in the painting, as visible markers of historical mores, link the figures to earlier practices and bygone values: these modern Frenchmen cannot come to terms with the changing of the times, trapped as they are in tragi-comical repetitions of the past. The Second Empire no longer offers any meaningful avenues for heroism beyond anachronistic—and often quite fatal—reiterations of history. Created two years before Bac's birth, the painting's demonstration of the identity crisis of masculinity as experienced by Gérôme's duelists expands on the exhibition's themes, in particular on the notion of nostalgically looking back at the past to craft a story for one's modern self. Just as Bac re-imagined both his own past and the historical past in his works as he reflected on modernity, so did the figures in Duel after the Masquerade attempt to re-fashion their present after the models of the past.
This talk complements UIMA spring 2018 exhibition Looking Bac: Ferdinand Bac 1859–1952.
Individuals with disabilities are encouraged to attend all University of Iowa-sponsored events. If you are a person with a disability who requires a reasonable accommodation in order to participate in this program, please contact the UIMA in advance at 319-335-1727.
Monday, January 29 at 7:30pm to 8:30pm
Art Building West, 240
141 North Riverside Drive, Iowa City, Iowa
Event Type

Audience

Departments

General Interest

Website
Contact Name

Elizabeth Wallace

Contact Email

Subscribe