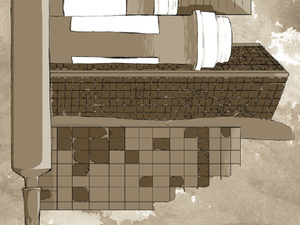 Happy Pills
Presented by the Department of Theatre Arts
Workshop Series
By Alyssa Cokinis
Directed by Wade Hampton
After a nuclear attack on major U.S. cities, happiness and other emotions can no longer be produced naturally by humans; their brain chemistry has been severely altered due to nuclear fallout. The Integrated Borders Union, a new government near former Washington, D.C., works with local drug manufacturers to produce chemically-created emotions; these pills are part of the mandatory Pill Program for all citizens residing in the IBU. To those wandering the wasteland, they must survive the terrain and hungry groups of hunters.
We go back and forth in time between Fern's present, in which she resides in the Integrated Borders Union one year after the fallout, and Fern's past, or what happened to her on the road a few months directly after the fallout.
Trigger Warning: This play deals with themes and situations of depression, addiction, drug abuse, suicidal tendencies, nuclear warfare, and sexual harassment.
Tickets:
Tickets for Workshops are free of charge; however, you must obtain a ticket at the door and seating is limited.
Saturday, January 21, 2017 at 8:00pm
Theatre Building, Theatre B
200 North Riverside Drive, Iowa City, Iowa
Event Type

Audience

Departments

General Interest

Website
Cost

Free

Hashtag

Contact Name

Department of Theatre Arts

Contact Email

Contact Phone Number

319.335.2700

Subscribe