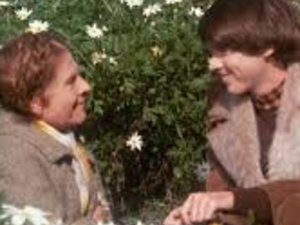 'Harold and Maude'
The Owl of Minerva Theater, sponsored by the Department of Philosophy, presents:
Harold and Maude (1971, Hal Ashby). Harold Chasen (Bud Cort) is a young man obsessed with death. He stages elaborate fake suicides, attends funerals and drives a hearse, all to the chagrin of his emotionally detached socialite mother (Vivian Pickles). At a stranger's funeral service, Harold meets Maude (Ruth Gordon), a 79-year-old woman who shares Harold's hobby of attending funerals. He is entranced by her quirky outlook on life, which is bright and excessively carefree in contrast with his morbidity. The pair form a bond and Maude shows Harold the pleasures of art and music (including how to play banjo), and teaches him how to "make the most of his time on earth". Meanwhile, Harold's mother is determined, against Harold's wishes, to find him a wife. One by one Harold frightens off his appointed dates by appearing to commit gruesome acts such as self-immolation, self-mutilation and seppuku. To the horror of Harold's mother and family his friendship with Maude subsequently blossoms into a romance. But on her 80th birthday Maude imparts to Harold a lesson about life that he struggles to accept. With a soundtrack of award winning original songs by Cat Stevens, Harold and Maude is ranked number 45 on the American Film Institute's list of 100 Funniest Movies of all Time and was selected for preservation in the National Film Registry of the Library of Congress in 1997, for being "culturally, historically or aesthetically significant". (Wikipedia).
Individuals with disabilities are encouraged to attend all University of Iowa–sponsored events. If you are a person with a disability who requires a reasonable accommodation in order to participate in this program, please contact Professor Carrie Swanson in advance at carrie-e-swanson@uiowa.edu.
Thursday, September 14, 2017 at 6:30pm
English-Philosophy Building, 109
251 West Iowa Avenue, Iowa City, Iowa
Event Type

Audience

Departments

General Interest
Cost

Free

Contact Name

Professor Carrie Swanson

Contact Email

Subscribe