On June 13, a new event calendar system will be launched. At that date, only events in the new system will be displayed. Please make sure all events after June 13 are added to
https://content.uiowa.edu
. You can find out more information about the transition on that site as well.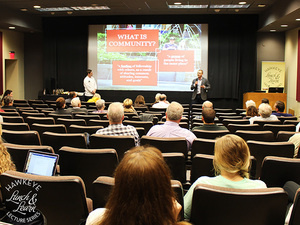 Hawkeye Lunch & Learn
You are invited to the upcoming Hawkeye Lunch & Learn lecture presented by Jim Hayes, Grant Wood Art Colony Board Chair, titled, Grant Wood: Myth, Memories, and the Midwest. His lecture will feature Maura Pilcher, Grant Wood Art Colony Director. This lecture is free and open to the public, however an RSVP is encouraged.
RSVP by clicking on the "I'm Going" button on this page, and following the login instructions. Friends and Alumni will be prompted to create an account the first time they register for a University of Iowa event. Please contact events@uiowa.edu if you encounter any technical issues. Attendees are invited to bring their lunch, and drinks and desserts will be provided.
The University of Iowa continues Grant Wood's legacy through the Grant Wood Art Colony. Wood is best known for painting American Gothic, one of the world's most internationally recognizable paintings. Amidst the warm reception of his painting, he created of a community of kindred spirits. Jim Hayes and Maura Pilcher will describe the current manifestation of Wood's colony, including the history of Wood's Iowa City home, the evolution of the Grant Wood Art Colony, and its current Fellows' activities. This lecture is sponsored by The University of Iowa Provost's Office of Outreach & Engagement. To view upcoming lectures in the Hawkeye Lunch & Learn series visit outreach.uiowa.edu/HawkeyeLL.
Individuals with disabilities are encouraged to attend all University of Iowa sponsored events. If you are a person with a disability who requires an accommodation in order to participate in this program, please contact the Office of Outreach & Engagement in advance at 319-335-0684.
Thursday, April 7, 2016 at 12:00pm to 1:00pm
Iowa Memorial Union (IMU), Iowa Theater
125 North Madison Street, Iowa City, Iowa
Event Type

Audience

Departments

General Interest
Hashtag

Contact Name

Jade Manternach

Contact Email

Contact Phone Number

319-335-0684

Subscribe