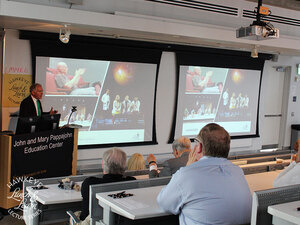 Hawkeye Lunch & Learn: Beyond the Stage: Building Community Through Music
You are invited to the upcoming Hawkeye Lunch & Learn lecture titled Beyond the Stage: Building Community Through Music, presented by David Gier, Director of the School of Music and Erich Funke Professor. This lecture is free and open to the public, however, an RSVP is encouraged.
RSVP by clicking on the "I'm Interested" button on the event page, and following the login instructions. Friends and Alumni will be prompted to create an account the first time they register for a University of Iowa event. Please contact events@uiowa.edu if you encounter any technical issues. Attendees are invited to bring their lunch, and drinks and desserts will be provided.
Voxman Music Building is a platform for connecting University of Iowa musicians with Iowa audiences, but did you know the impact goes far beyond the stage? The University of Iowa School of Music enhances the community in many ways, from the hundreds of world-class, free performances and events throughout the year, to the economic impact of bringing thousands of audience members to the Iowa City area. Educational workshops benefit schools throughout Iowa and beyond, and programs such as the UI String Quartet Residency Program and Arts Share take students and faculty across the entire State of Iowa to engage with audiences outside of Iowa City.
This lecture is sponsored by the University of Iowa Provost's Office of Outreach & Engagement. To view upcoming lectures in the Hawkeye Lunch & Learn lecture series visit outreach.uiowa.edu/HawkeyeLL. Individuals with disabilities are encouraged to attend all University of Iowa sponsored events. If you are a person with a disability who requires an accommodation in order to participate in this program, please contact the Office of Outreach & Engagement in advance at 319-335-0684.
Tuesday, December 12, 2017 at 12:00pm to 1:00pm
John and Mary Pappajohn Education Center, Room 201
1200 Grand Ave., Des Moines, IA
Event Type

Audience

Departments

General Interest

Website
Hashtag

Contact Name

The Office of Outreach & Engagement

Contact Email

Contact Phone Number

319.335.0684

Subscribe