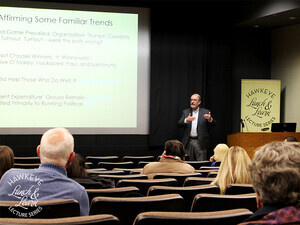 Hawkeye Lunch & Learn: Big Data, Big Brother
You are invited to the upcoming Hawkeye Lunch & Learn lecture titled Big Data, Big Brother, presented by Zubair Shafiq, Assistant Professor of Computer Science. This lecture is free and open to the public, however, an RSVP is encouraged.
RSVP by clicking on the "I'm Going" button on the event page, and following the login instructions. Friends and Alumni will be prompted to create an account the first time they register for a University of Iowa event. Please contact events@uiowa.edu if you encounter any technical issues. Attendees are invited to bring their lunch, and drinks and desserts will be provided.
The "free" Web is powered by a multi-billion dollar online advertising industry. Advertisers track users across the Web to show them targeted advertisements. Professor Shafiq will discuss the scope of online tracking, including its implications on user privacy and government surveillance. He will also discuss current UI research on increasing transparency to empower users to limit online tracking. This lecture is sponsored by the University of Iowa Provost's Office of Outreach & Engagement. To view upcoming lectures in the Hawkeye Lunch & Learn lecture series visit outreach.uiowa.edu/HawkeyeLL. Participants are encouraged to take five minutes to complete the Our Lives Online Theme Semester Survey to become eligible to receive prize giveaways this semester.
Individuals with disabilities are encouraged to attend all University of Iowa sponsored events. If you are a person with a disability who requires an accommodation in order to participate in this program, please contact the Office of Outreach & Engagement in advance at 319-335-0684.
Thursday, March 9, 2017 at 12:00pm to 1:00pm
Iowa Memorial Union (IMU), Iowa Theater
125 North Madison Street, Iowa City, Iowa
Event Type

Audience

Departments

General Interest

Website
Hashtag

Contact Name

Jade Manternach

Contact Email

Contact Phone Number

319.335.0684

Subscribe