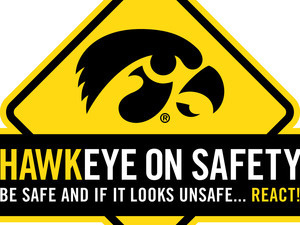 Hawkeye on Safety
Hawkeye on Safety is an annual conference that provides life-saving training to Iowa workers. Learn how to stay safe in the workplace so you can go home to your family healthy each day—and how to help your coworkers stay safe so they can do the same.
Planned topics include safety culture, soft-tissue injuries, silica, fall protection, women in construction, electrical safety, "Safety Happens Together," ladder safety, hazard mapping, and more.
For more information, go to HawkeyeOnSafety.com. The low cost of admission ($45 per person, or $35 per head for groups of 10 or more) includes meals and parking.
Individuals with disabilities are encouraged to attend all University of Iowa–sponsored events. If you are a person with a disability who requires a reasonable accommodation in order to participate in this program, please contact Mike Meginnis in advance at michael-meginnis@uiowa.edu or 319-335-4684.
Wednesday, September 20, 2017 at 7:00am to 4:15pm
Coralville Marriott Hotel and Conference Center
300 E. 9th St., Coralville, IA 52241
Event Type

Audience

Departments

Website
Cost

$45 per person, or $35 per head for groups of 10 or more

Contact Name

Mike Meginnis

Contact Email

Contact Phone Number

319-335-4684

Subscribe