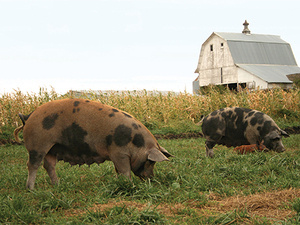 Hog Farming, Sustainability, and a Tale of Delicious Bacon
Simran Sethi, one of the world's most inspiring environmental messengers, will lead a panel discussing an alternative market for hog farmers and what this means for bacon lovers everywhere. Panelists will explore the pork supply chain, including marketability, sustainability, and changing the food system. A reception will follow the event in the West Galleria, Pappajohn Business Building.
Panelists:
Paul Willis is a hog farmer and founder of the Niman Ranch Pork Company. Paul developed a network of farmers that clean-raise livestock to provide an alternative to industrial pork.
David Osterberg is a clinical professor in the University of Iowa Department of Occupational and Environmental Health and specializes in research translation and community engagement. His research has been published in the American Journal of Public Health and Environmental Health Perspectives and discusses addressing the impacts of swine production to reduce public health and environmental impact. He is the former director of the Iowa Policy Project, a non-profit organization, where he also writes about swine production.
Josh Grace is the Meat Department Manager at Lucky's Market in Iowa City. He has been in the meat industry for ten years and came to Lucky's from New Pioneer Co-op where he coordinated the meat/seafood program at all three stores and was responsible for sourcing and pricing all products in the program.
Facilitator:
Simran Sethi is a journalist and educator focused on food, sustainability, and social change. She has been named an environmental "messenger" by Vanity Fair, a top-10 eco hero of the planet by the U.K.'s Independent, and designated one of the top-eight women saving the planet by Marie Claire. She has appeared on segments of the Oprah Winfrey Show and has been featured on the Ellen DeGeneres show and the Martha Stewart show. She was the environmental correspondent for NBC News and is the recent host of the PBS QUEST series on science and sustainability. Simran is the contributing author of Ethical Markets: Growing the Green Economy, winner of the bronze 2008 Axiom Award for Best Business Ethics Book and the author of Bread, Wine, Chocolate: The Slow Loss of Foods We Love, a story of changes in food and agriculture told through bread, wine, chocolate, coffee, and beer.
Wednesday, April 27, 2016 at 5:30pm
Pappajohn Business Building, Room W10
21 East Market Street, Iowa City, Iowa
Event Type

Audience

Departments

General Interest

Website
Contact Name

Sara Maples

Contact Email

Contact Phone Number

319-335-3726

Subscribe