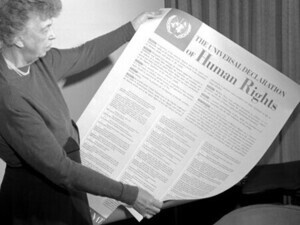 Human Rights Day tabling
On Dec.10, 1948, the United Nations General Assembly adopted the Universal Declaration of Human Rights, the foundation of the modern human rights system. In recognition of this 69th anniversary, which also launches the year-long celebration of the Declaration's 70th anniversary, the UI Center for Human Rights will provide copies of the declaration and information on the Center's work and UI's Human Rights Certificate Program. Stop by our table in the Main Library from 10 a.m. to 3 p.m.
Individuals with disabilities are encouraged to attend all University of Iowa–sponsored events. If you are a person with a disability who requires a reasonable accommodation in order to participate in this program, please contact Amy Weismann in advance at uichr@uiowa.edu or 319-335-2900.
Sunday, December 10, 2017 at 10:00am to 3:00pm
University of Iowa Main Library, Group Area D
125 West Washington St. Iowa City, IA 52242-1420
Departments
Contact Name

Amy Weismann

Contact Email

Contact Phone Number

319-335-2900

Subscribe