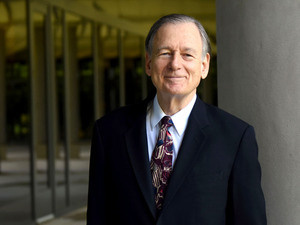 Ida Beam Distinguished Visiting Lecturer Jay Hakes: "Energy Challenges for the Next American President"
"Energy Challenges for the Next American President"
This event will take place right before the third televised Presidential debate.
Jay Hakes is one of the foremost authorities on U.S. energy policy and history. His distinguished record of government service includes positions as special assistant in the Office of the President under Jimmy Carter; Energy Office director and chief of staff for Florida Governor Bob Graham; administrator of the U.S. Energy Information Administration (EIA), the statistical arm of the Department of Energy, 1993–2000; director of the Jimmy Carter Presidential Library, 2000–2013; and director for policy and research for the National Commission on the BP Deepwater Horizon Oil Spill and Offshore Drilling, 2010–2011.
Hakes travels widely in the United States and around the world to lecture on energy issues, and he is a regular contributor to the energy news and opinion website Real Clear Energy. His 2008 book, A Declaration of Energy Independence, analyzes U.S. energy policy since the 1970s and provides workable solutions to the nation's energy dilemmas. Hakes also has two forthcoming books, one on the energy crises of the 1970s and the other on the history of the climate change debate in the United States.
Individuals with disabilities are encouraged to attend all University of Iowa–sponsored events. If you are a person with a disability who requires a reasonable accommodation in order to participate in this program, please contact Tyler Priest in advance at tyler-priest@uiowa.edu or 319-335-2096.
Wednesday, October 19, 2016 at 5:00pm to 6:30pm
Van Allen Hall, LR2 30 North Dubuque Street
Event Type

Audience

Departments

General Interest
Cost

Free

Contact Name

Tyler Priest

Contact Email

Contact Phone Number

319-335-2096

Subscribe