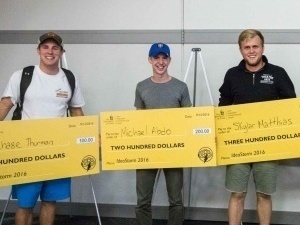 IdeaStorm
Does your idea solve a problem in a unique way? The John Pappajohn Entrepreneurial Center (Iowa JPEC) is hosting IdeaStorm, where University of Iowa students have one minute to share their business ideas to a panel of judges and an audience. After each presentation the judges will provide immediate feedback to help improve ideas. The top five ideas will be awarded cash prizes to help them move on to the next level. IdeaStorm is held twice annually and awards $1,500 in cash prizes at each competition.
IdeaStorm can help familiarize you with the process of a pitch competition and provide you the opportunity to network with students around campus.
Any university student with an idea is welcome to participate!
Go to iowajpec.org/events/ideastorm for more information.
Thursday, September 21, 2017 at 6:00pm to 8:00pm
Merge 136 S Dubuque Street
Audience

Departments

Website
Contact Name

Iowa JPEC

Contact Email

Subscribe