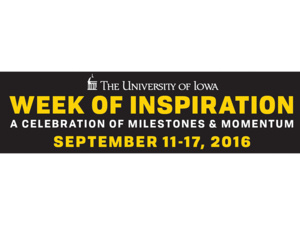 Inspiration Open House at Combustion and High Speed Fluid Mechanics Lab
The Inspiration Open Houses will be held from 7–9 a.m. from Monday, Sept. 12 through Thursday, Sept. 15. Grab a donut and get a behind-the-scenes look at some of the UI's most impressive facilities.
The lab finds solutions to important questions about combustion and related fluid mechanics. Researchers and students are focused on two key technical areas: combustion instability for alternative fuels in gas turbines and optimizing the producer gas generated from biomass materials. The open house will also be devoted to details about how the addition to the Seamans Center for the Engineering Arts and Sciences, currently under construction, will advance engineering education and research.
Individuals with disabilities are encouraged to attend all University of Iowa sponsored events. If you are a person with a disability who requires an accommodation in order to participate in this program, please contact the Office of the President in advance at 319-335-3549.
Monday, September 12, 2016 at 7:00am to 9:00am
Seamans Center, 3111
103 South Capitol Street, Iowa City, Iowa
Event Type

Audience

Departments

General Interest

Website
Hashtag

Contact Name

President RSVP

Contact Email

Contact Phone Number

319-335-3549

Subscribe