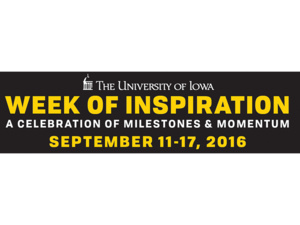 Inspiration Open House at the IIHR Hydroscience and Engineering & Iowa Flood Center
The Inspiration Open Houses will be held from 7–9 a.m. from Monday, Sept. 12 through Thursday, Sept. 15. Grab a donut and get a behind-the-scenes look at some of the UI's most impressive facilities.
Good information is the key to being ready for the next flood. The Iowa Flood Center (IFC), part of IIHR—Hydroscience and Engineering at the University of Iowa, provides accurate, science-based information to help Iowans better understand, monitor, and prepare for floods. The IFC is improving flood monitoring and prediction in Iowa while also developing strategies to help mitigate and prevent future flood damage. Visitors to the IIHR Wind Tunnel Annex will see the IFC's mobile polarimetric X-band radar, which is used to monitor precipitation; IFC-developed stream-stage sensors, which measure stream water elevation; and rain gauge platforms that measure rain and soil moisture. They will also be able to try out a hands-on watershed model to see how flooding moves through a basin. Visitors will have the opportunity to explore the Iowa Flood Information System—an online application that provides real-time information on precipitation, stream levels, and more across the state—and they may also visit IIHR's Model Annex next door to see a physical model of a vortex dropshaft and tunnel section for the city of St. Louis.
Individuals with disabilities are encouraged to attend all University of Iowa sponsored events. If you are a person with a disability who requires an accommodation in order to participate in this program, please contact the Office of the President in advance at 319-335-3549.
Thursday, September 15, 2016 at 7:00am to 9:00am
Hydraulics Wind Tunnel Annex, Main Entrance (West Harrison Street)
130 West Harrison Street, Iowa City, Iowa
Event Type

Audience

Departments

General Interest

Website
Hashtag

Contact Name

President RSVP

Contact Email

Contact Phone Number

319-335-3549

Subscribe