On June 13, a new event calendar system will be launched. At that date, only events in the new system will be displayed. Please make sure all events after June 13 are added to
https://content.uiowa.edu
. You can find out more information about the transition on that site as well.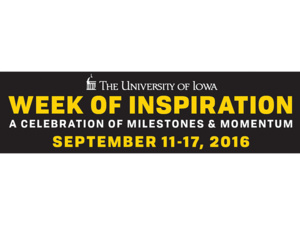 Inspiration Open House at the NEXUS Engineering and Arts Initiative
The Inspiration Open Houses will be held from 7–9 a.m. from Monday, Sept. 12 through Thursday, Sept. 15. Grab a donut and get a behind-the-scenes look at some of the UI's most impressive facilities.
The Nexus of Engineering and the Arts Initiative gives arts and engineering majors the opportunity to collaborate in a number of courses from each college in order to promote creative teamwork among engineering and art students, faculty, staff, and visiting artists and scholars. The engineering profession is an inherently creative endeavor; engineers design new products, processes, and devices that solve problems and improve people's lives. When engineers and artists work together, they can achieve especially impressive outcomes. Engineers bring to the table an understanding of the physical world and the conditions and constraints set by the laws of nature, and artists provide a creative vision of beauty, as well as ingenuity, that can enhance any project.
Individuals with disabilities are encouraged to attend all University of Iowa sponsored events. If you are a person with a disability who requires an accommodation in order to participate in this program, please contact the Office of the President in advance at 319-335-3549.
Thursday, September 15, 2016 at 7:00am to 9:00am
Seamans Center, 1505
103 South Capitol Street, Iowa City, Iowa
Event Type

Audience

Departments

General Interest

Website
Hashtag

Contact Name

President RSVP

Contact Email

Contact Phone Number

319-335-3549

Subscribe