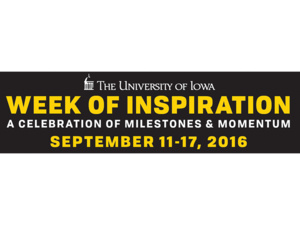 Inspire Open House at the State Hygienic Laboratory
The Inspiration Open Houses will be held from 7–9 a.m. from Monday, Sept. 12 through Thursday, Sept. 15. Grab a donut and get a behind-the-scenes look at some of the UI's most impressive facilities.
Food and water are basics of life that we often take for granted. But how do you know if they're safe to consume? This tour of the State Hygienic Laboratory will give attendees a behind-the-scenes look at how Iowa's largest public health laboratory determines if water is safe to swim in or safe drink. Chemists will demonstrate the processes that ensure water quality—from river to lab to your faucet. Our disease detectives will also demonstrate how to solve the mystery of what pathogens in food are making people sick, as well as the twists and turns of how a laboratorian pinpoints the source of an outbreak.
Individuals with disabilities are encouraged to attend all University of Iowa sponsored events. If you are a person with a disability who requires an accommodation in order to participate in this program, please contact the Office of the President in advance at 319-335-3549.
Tuesday, September 13, 2016 at 7:00am to 9:00am
State Hygienic Laboratory, Main Entrance
2490 Crosspark Road, Coralville, IA
Event Type

Audience

Departments

General Interest

Website
Hashtag

Contact Name

President RSVP

Contact Email

Contact Phone Number

319-335-3549

Subscribe