On June 13, a new event calendar system will be launched. At that date, only events in the new system will be displayed. Please make sure all events after June 13 are added to
https://content.uiowa.edu
. You can find out more information about the transition on that site as well.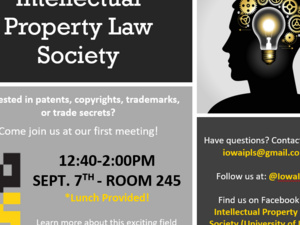 Intellectual Property Law Society Intro Meeting
Interested in patents, copyrights, trademarks, or trade secrets? Come join us at our first meeting! Learn more about this exciting field, what we do, and hear from our student panel. Lunch provided!
Thursday, September 7, 2017 at 12:40pm to 2:00am
Boyd Law Building, 245 BLB
130 Byington Road, Iowa City, Iowa
Departments
Contact Name

Arianna Chronis

Contact Email

Subscribe