On June 13, a new event calendar system will be launched. At that date, only events in the new system will be displayed. Please make sure all events after June 13 are added to
https://content.uiowa.edu
. You can find out more information about the transition on that site as well.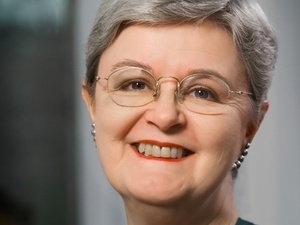 "Best When Used By: The Universal Declaration of Human Rights" — Ida Cordelia Beam Distinguished Visiting Professorship Keynote Lecture by Trudy Huskamp Peterson
"Use it or lose it" can apply to muscle tone, the ability to speak a foreign language, annual leave that will disappear at the end of a year, or sex drive. And, tweaked a little into "best when used by," it might refer to food going bad in the refrigerator or, conversely, the very best time to eat, say, a pear for premium ripeness. All of these phrases imply action by someone. Many people have heard, if vaguely, of the Universal Declaration of Human Rights. A smaller number have read it, and even fewer have cited it for support in an argument. It is the grey document in the background about which people nod sagely. But if that is all it is—if it is not used, and used by us all—do we also risk losing our commitment to the principles it declares?
This lecture is part of the 2018 Provost's Global Forum and Obermann Humanities Symposium, Against Amnesia: Archives, Evidence and Social Justice, in which practicing archivists, engaged scholars, and interdisciplinary artists will share projects from guerrilla archiving of climate data to mining corporate records for evidence of organized violence.
Trudy Huskamp Peterson spent twenty-four years with the U.S. National Archives, including more than two years as Acting Archivist of the United States. She was the founding Executive Director of the Open Society Archives in Budapest, Hungary and director of Archives and Records Management for the United Nations High Commissioner for Refugees. She currently chairs the International Council on Archives' Human Rights Working Group and chaired the ICA working group on a standard for access to archives. Now an independent consultant, she works with governments and organizations around the world where archives are crucial to social justice efforts.
The Provost's Global Forum and Obermann Humanities Symposium is co-sponsored by the Obermann Center for Advanced Studies, the Ida Beam Visiting Professorships Program, the Provost's Global Forum International Programs grant, the UI Center for Human Rights, Digital Bridges for Humanistic Inquiry, the UI School of Music, UI Libraries-Special Collections, the UI Department of History, and the UI Department of Cinematic Arts.
Thursday, March 1 at 4:00pm to 5:30pm
Old Capitol Museum, Senate Chambers
1 North Clinton Street, Iowa City, Iowa
Event Type

Audience

Departments

General Interest

Tags

Website
Cost

FREE

Hashtag

Contact Name

Erin Hackathorn

Contact Email

Contact Phone Number

319-335-4034

Subscribe