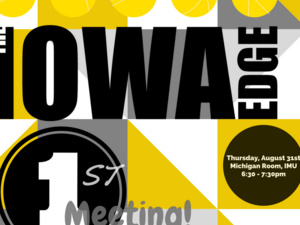 Iowa Edge Student Organzation Informational Meeting
The Iowa Edge Student Organization exists to act as a yearlong support system academically and socially for Minority students, First generations students, LGBT students, International students and Iowa Edge Program participants. We aim to increase student retention, diversity, and quality of student life at The University of Iowa.
Iowa Edge Student Organization was created by the Alumni participants of the Iowa Edge program. It was built from the Iowa Edge program and it is intended to provide growth at both a community and individual level through community building, diversity education, and student support. The organization aims to foster community and student success among the overall community of color.
We meet biweekly on Thursdays, in the Michigan room (351) at the third floor of the IMU from 6:30–7:30 p.m. Our informational session meeting is on Thursday, Aug. 31, 2017 in the Michigan room (351) at the third floor of the IMU from 6:30–7:30 p.m. Food will be provided. Come join us to learn more about IESO events for Fall and to take part in some fun community building activities we have planned.
Individuals with disabilities are encouraged to attend all University of Iowa–sponsored events. If you are a person with a disability who requires a reasonable accommodation in order to participate in this program, please contact Mikhayla Hughes-Shaw in advance at mikhayla-hughes-shaw@uiowa.edu.
Thursday, August 31, 2017 at 6:30pm to 7:30pm
Iowa Memorial Union (IMU), Michigan Room (351)
125 North Madison Street, Iowa City, Iowa
Event Type

Audience

General Interest
Contact Name

Mikhayla Hughes-Shaw

Contact Email

Subscribe