On June 13, a new event calendar system will be launched. At that date, only events in the new system will be displayed. Please make sure all events after June 13 are added to
https://content.uiowa.edu
. You can find out more information about the transition on that site as well.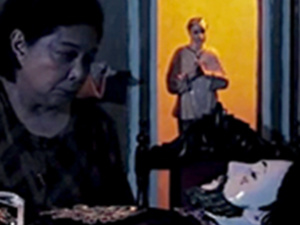 IWP Cinematheque
"Hinulid" (Philippines, dir. + screenplay K.S. Cordero) [136 min]

"They come in threes. The Three Dead Christ, real in the town of Gainza, is shown being worshipped by devotees. Three corpses float, disturbing in the velvet garb of the Christ. Three woman are raped and three men—triplets—are tortured. Men and woman violated are transformed into banana stalks, a belief that is common among Bikolanos and their tales of enchantment. Against the verdant field is seen the statue of Death, a skeleton dressed in red velvet, an icon in the land of icons.…

In the sublime and highly textured cinematography, in a grand animation […] meteors fall and light up the sky behind the sacred mountain. The train blazes with the fire of a thousand fireflies and resumes its journey through mythical time […] where villages will not be ignorant of the politics of violence, where numbers rule our destiny because sons are murdered and we turn to memory for justice." — Tito Genova Valiente in Business Mirror (Manila)

This event is free and open to the public.

Individuals with disabilities are encouraged to attend all University of Iowa-sponsored events. If you are a person with a disability who requires a reasonable accommodation in order to participate in this program, please contact the International Writing Program in advance at 319-335-0128.
Sunday, September 3, 2017 at 7:00pm to 9:30pm
Adler Journalism and Mass Communication Building, E105
104 West Washington, Iowa City, Iowa
Event Type

Audience

Departments

General Interest

Tags

Website
Cost

Free

Hashtag

Contact Name

Donna Brooks

Contact Email

Subscribe