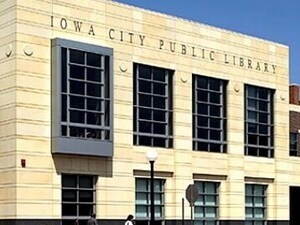 IWP Panel Series: Permanent Migration, or Re-thinking Home
Join the International Writing Program for this weekly panel discussion series at the Iowa City Public Library (Meeting Room A). Free pizza and refreshments served.

Kirmen Uribe (novelist, poet, essayist; Spain). His first novel Bilbao-New York-Bilbao earned him Spain's 2008 National Fiction Prize, and has been translated into fifteen languages; his poems have appeared in The New Yorker and elsewhere. Elkarrekin esnatzeko ordua [The Hour of Waking Together] was published in 2017. He participates courtesy of the Etxepare Basque Institute.

Yuriy Serebriansky Юрий Серебрянский (fiction writer, journalist; Kazakhstan) is the editor-in-chief of Esquire Kazakhstan, the editor of the Polish diaspora magazine Ałmatyński Kurier Polonijny, and the author of five volumes of prose and poetry. His novel [Destination. Road Pastoral] won the Russkaya Premia for best short prose in 2010; the novel [Prazhaki] won the same award in 2014. His [Kazakhstani Fairy Tales] won an award at the 2017 Silk Roads Book Fair. He participates courtesy of the Bureau of Educational and Cultural Affairs at the U.S. Department of State.

Fatena Alghorra (poet, journalist; Belgium) has four books of poetry: two were translated, one winning a prize for best Arabic translation into Italian. A fifth volume will appear in Arabic and in Dutch. Her work appears in the anthology Fifty Years of Palestinian Poets. In 2012 she won the El Hizjra prize for Dutch language writers of diverse background. After a career in broadcasting in Gaza, she is now a freelance journalist for Al Jazeera, a lecturer, a performer, and the organizer of poetry events in Belgium and the Netherlands. She participates courtesy of the Bureau of Educational and Cultural Affairs at the U.S. Department of State.

Esther Dischereit (poet, novelist, essayist, stage and radio dramatist; Germany) has given lectures and readings around the world. Most recently she published Blumen für Otello. Über die Verbrechen von Jena [Flowers for Othello. On the Crimes of Jena] and edited Havel, Hunde, Katzen, Tulpen, Garz erzählt [Havel, Dogs, Cats, Tulips – Garz Talking]. Her work spans multiple genres and often reflects the post-Holocaust landscape in Germany, e.g. Joëmis Tisch [Joëmis Table] and Übungen jüdisch zu sein [Exercises in Being Jewish]. In 2009 Dischereit received the Erich Fried Prize. In 2017 she was a visiting professor at the University of Virginia; she teaches at the University for Applied Arts in Vienna. Her participation is made possible by the Max Kade Foundation.

Anne Kennedy (fiction writer, screenwriter, poet; New Zealand) received the 2013 New Zealand Post Book Award for Poetry for The Darling North; in 2014 her novel The Last Days of the National Costume was a finalist for the New Zealand Post Book Award and was longlisted for the IMPAC-Dublin Award. In 2016 she was in residence at the Victoria University's International Institute of Modern Letters. During her career, she has been an advocate for Maori and Pasifika voices. Her participation is made possible by Creative New Zealand.

Individuals with disabilities are encouraged to attend all University of Iowa-sponsored events. If you are a person with a disability who requires a reasonable accommodation in order to participate in this program, please contact the International Writing Program in advance at 319-335-0128.
Friday, September 29, 2017 at 12:00pm to 1:00pm
Iowa City Public Library, Meeting Room A
123 S. Linn St., Iowa City, IA
Event Type

Audience

Departments

General Interest

Tags

Website
Cost

Free

Hashtag

Contact Name

Donna Brooks

Contact Email

Subscribe