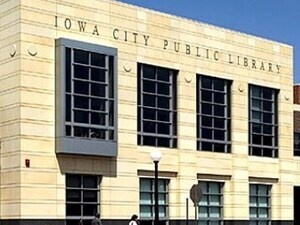 IWP Panel Series: Utopia and the Future
Join the International Writing Program for this weekly panel discussion series at the Iowa City Public Library (Meeting Room A). Free pizza and refreshments served.

Lava Omer Darwesh لاڤە عمر دەروێش (poet, translator; Iraq) graduated from the American University of Iraq with degrees in Business and English Literature. In her native city of Sulaimani she started a Freedom Writers Club and a Book Lovers Club; her poems have appeared in the anthology Lanterns of Hope, and she translates poetry and prose from English into Kurdish. She participates courtesy of the Bureau of Educational and Cultural Affairs at the U.S. Department of State.

Gimba Kakanda (fiction writer, poet, journalist; Nigeria) published a firstvolume of poetry, Safari Pants, in 2010; his other work has been anthologized. He is an editor at the Daily Nigerian, a daily committed to promoting transparency in governance, and maintains a weekly column in several other periodicals, chiefly concerned with social issues. He participates courtesy of the U.S. Embassy in Abuja.

Fujino Kaori 藤野可織 (fiction writer; Japan) writes short stories and novellas about the horror that lurks behind everyday life. In 2006 she won the Bungakukai Prize for New Writers for her story "Iyashii tori" [The Greedy Bird]. She was nominated for the Akutagawa Prize in 2009 before winning it in 2013 for her acclaimed novella Tsume to me [Nails and Eyes]. Her book O hanashi shite ko-chan [Little Miss Tell-Me-a-Story] was published by Kodansha the same year. Her most recent collection of stories is Final Girl (2016). Fujino's participation is made possible by the Japan Foundation.

Yaara Shehori יערה שחורי (fiction writer, poet, editor; Israel) is a literary editor at Keter Publishing House. She has published many works of fiction, poetry, and nonfiction—most recently the novel [Aquarium] (2016). In 2015, she received both the Levi Eshkol Prime Minister's Prize and the Minister of Culture Award for Hebrew Literature in the 'young authors' category. She participates courtesy of the United States-Israeli Education Foundation.

Individuals with disabilities are encouraged to attend all University of Iowa-sponsored events. If you are a person with a disability who requires a reasonable accommodation in order to participate in this program, please contact the International Writing Program in advance at 319-335-0128.
Friday, September 22, 2017 at 12:00pm to 1:00pm
Iowa City Public Library, Meeting Room A
123 S. Linn St., Iowa City, IA
Event Type

Audience

Departments

General Interest

Tags

Website
Cost

Free

Hashtag

Contact Name

Donna Brooks

Contact Email

Subscribe