On June 13, a new event calendar system will be launched. At that date, only events in the new system will be displayed. Please make sure all events after June 13 are added to
https://content.uiowa.edu
. You can find out more information about the transition on that site as well.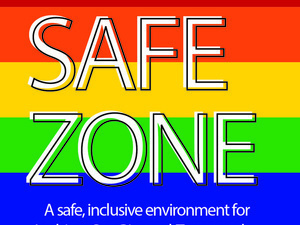 LGBTQ Safe Zone: Phase I
Safe Zone: Phase I introduces basic LGBTQ terms and concepts, helps participants develop an appreciation for the experiences of the LGBTQ people, and brings an overall awareness of LGBTQ issues. Participants will be encouraged to think about how they can create a more inclusive environment and will be prepared to provide resources to LGBTQ people.
Once participants complete Phase I, they can then attend Phase II where, upon completion, they may choose to become a recognized Safe Zone ally and receive a Safe Zone symbol to display in their work space.
Sign-up is available for employees through Employee Self-Service/My Training. To locate certificate courses search for "Safe Zone" and a list of the courses will appear. If you are a student or community member and would like to attend, please email safe-zone@uiowa.edu at least 1 week before the date of the training.
Note: Participants are able to receive BUILD credit for attending. If you have attended an LGBTQ training in the past and would like credit, please email diversity@uiowa.edu.
Individuals with disabilities are encouraged to attend all University of Iowa sponsored events. If you are a person with a disability who requires an accommodation in order to participate in this program, please contact Kendra Malone in advance at 353-2388 or by email at safe-zone@uiowa.edu.
Friday, January 26 at 2:00pm to 4:00pm
University Capitol Centre, 2520D
200 South Capitol Street, Iowa City, Iowa
Event Type

Audience

Departments

General Interest

Tags

Website
Contact Name

Chief Diversity Office

Contact Email

Contact Phone Number

319-353-2388

Subscribe