On June 13, a new event calendar system will be launched. At that date, only events in the new system will be displayed. Please make sure all events after June 13 are added to
https://content.uiowa.edu
. You can find out more information about the transition on that site as well.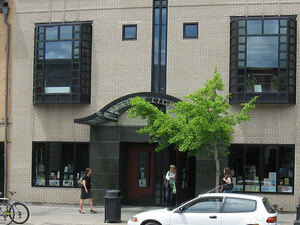 Live From Prairie Lights: IWP—Yvonne Adhiambo Owuor, Kristen Steenbeeke, and Kirmen Uribe
Yvonne Adhiambo Owuor is an author, lecturer, and arts curator. Her first novel, Dust, was published by Knopf in 2014, and
received the 2015 TBC Jomo Kenyatta Literature Award. In 2003, she won the Caine Prize for African Writing for her story
"Weight of Whispers," also the title of a 2003 volume. Owuor was an IWP Fall Resident in 2005, and returns as the Residency's
first Grinnell Fellow. She participates courtesy of Grinnell College.
Kristen Steenbeeke is an MFA candidate in poetry at the Iowa Writers' Workshop, where she received the Rona Jaffe Foundation
Fellowship. She was the winner of the 2017 Indiana Review Poetry Prize, judged by Ross Gay, and her fiction and poetry have
been published in Pleiades, Tin House blog, McSweeney's Internet Tendency, Poetry Northwest, and other places. She was recently a
finalist in Mid-American Review's Fineline Competition and Third Coast's Poetry Prize.
Kirmen Uribe is a novelist, poet, and essayist. Bilbao-New York-Bilbao, his first novel, earned him Spain's 2008 National Fiction
Prize, and has been translated into fifteen languages; his poems have appeared in The New Yorker and elsewhere. Elkarrekin
esnatzeko ordua [The Hour of Waking Together] was published in 2017. He participates courtesy of the Etxepare Basque Institute.
Individuals with disabilities are encouraged to attend all University of Iowa–sponsored events. If you are a person with a disability who requires a reasonable accommodation in order to participate in this program, please contact Jan Weissmiller in advance at jan@prairielights.com.
Sunday, August 27, 2017 at 4:00pm to 5:00pm
Prairie Lights Books
15 South Dubuque St., Iowa City, IA
Event Type

Audience

Departments

Website
Cost

Free

Contact Name

Jan Weissmiller

Contact Email

Subscribe