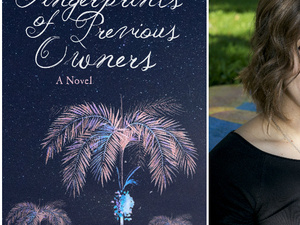 Live From Prairie Lights: Rebecca Entel
Rebecca Entel will read from her novel, Fingerprints of Previous Owners, published by UnNamed Press.
"Fingerprints of Previous Owners simmers with implicit and explicit violence, with social and economic injustices, the dichotomy of a hotel so crassly extravagant that it throws away good food daily while locals brew tea from wild leaves or eat whatever the poor soil can grow. Beautifully written, it is bleak, stark; as uncompromising as the island's soil and as wrenching as the haulback shrubs that guard its secrets. Audacious, heartfelt and realistic, I found myself immersed in the perverted paradise of this island world, rooting for the characters I came to care so much about." ―Maxine Case
Rebecca Entel began this novel while teaching on San Salvador Island in the Bahamas. Her short stories have been published in Guernica, Joyland Magazine, The Madison Review, Glimmer Train, and the Southwest Review. She is associate professor of English and creative writing at Cornell College, where she teaches African American and Caribbean literature and directs the Center for the Literary Arts.
"Rebecca Entel writes with spellbinding intelligence and a deep knowledge of the human heart. Her writing is true and exquisite, serious and fun." —Lorrie Moore
Individuals with disabilities are encouraged to attend all University of Iowa–sponsored events. If you are a person with a disability who requires a reasonable accommodation in order to participate in this program, please contact Jan Weissmiller in advance at jan@prairielights.com.
Wednesday, June 28 at 7:00pm
Prairie Lights Books
15 South Dubuque St., Iowa City, IA
Event Type

Audience

Departments

General Interest

Website
Cost

Free

Contact Name

Jan Weissmiller

Contact Email

Subscribe