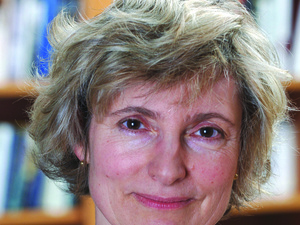 Live From Prairie Lights: Rosanna Warren
Ida Beam visiting lecturer Rosanna Warren will read from her poetry. This special event is co-sponsored by the International Writing Program.
Rosanna Warren is the Hanna Holborn Gray Distinguished Service Professor at the University of Chicago. She has received numerous awards, served as chancellor of the Academy of American Poets from 1999 to 2005, and is a member of the American Academy of Arts and Letters, the Amererican Academy of Arts and Science, and the Amererican Philosophical Socociety.
She is the author of Earthworks: Selected Poems, Ghost in a Red Hat: Poems, Fables of the Self: Studies in Lyric Poetry, and Departure: Poems.
Individuals with disabilities are encouraged to attend all University of Iowa–sponsored events. If you are a person with a disability who requires a reasonable accommodation in order to participate in this program, please contact Jan Weissmiller in advance at jan@prairielights.com.
Wednesday, September 27, 2017 at 7:00pm
Prairie Lights Books
15 South Dubuque St., Iowa City, IA