On June 13, a new event calendar system will be launched. At that date, only events in the new system will be displayed. Please make sure all events after June 13 are added to
https://content.uiowa.edu
. You can find out more information about the transition on that site as well.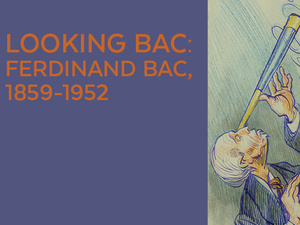 Looking Bac: Ferdinand Bac 1859-1952
Artist, writer, and landscape architect, Ferdinand Bac accomplished more in his ninety-three years than most people could in twice that time. Looking Bac: Ferdinand Bac, 1859–1952 brings together Bac's drawings and prints, generously loaned by Madame Sylviane Jullian, and the UIMA permanent collection. Divided into three sections—biography and nostalgia, women, and World War II—the exhibition examines Bac's career.
Looking Bac is curated by UIMA Assistant Curator of Special Projects Kimberly Musial Datchuk, with translations and research assistance from Natalie J. A. Benson, PhD, Drake University.
It is generously supported by the Koza Family Fund, the Members Special Exhibition Fund, and the Richard V.M. Corton, M.D. and Janet Y. Corton Exhibition Fund.
Individuals with disabilities are encouraged to attend all University of Iowa-sponsored events. If you are a person with a disability who requires a reasonable accommodation in order to participate in this program, please contact the UIMA in advance at 319-335-1727.
Wednesday, May 16 at 10:00am to 5:00pm
Iowa Memorial Union (IMU), Black Box Theater, third floor
125 North Madison Street, Iowa City, Iowa
Event Type

Audience

Departments

General Interest

Website
Contact Name

Elizabeth Wallace

Contact Email

Contact Phone Number

319-335-1727

Subscribe