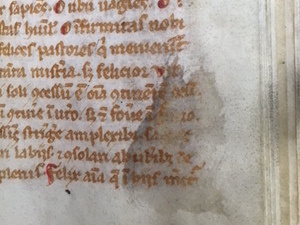 Multispectral Imaging of Medieval Manuscripts
MULTISPECTRAL IMAGING COMING TO IOWA
Pictured here: a page selected for imaging from a 13th century Italian manuscript that belongs to the University of Iowa Libraries Special Collections, xMMs.Se3.
The Library of Stains Project (#StainAlive) is using new technologies for "dirty old books."
The Library of Stains project aims to gather scientific data, drawn from stains found on parchment, paper, and bindings in medieval manuscripts. This data will provide a new way for researchers, conservators, librarians, and the public to access information concerning the material makeup of medieval manuscripts, their medieval uses, and new approaches for modern studies.
Multispectral imaging has increasingly been applied to the study of ancient and medieval manuscripts in order to uncover material evidence not visible to the naked eye. The results from projects such as the Archimedes Palimpsest and the Sinai Palimpsests Project are revolutionizing manuscript studies.
Mike Toth, the imaging specialist involved in the above projects, will bring his equipment to the University of Iowa Libraries December 14-15 as part of a CLIR Microgrant, led by three CLIR Postdoctoral Fellows in Data Curation for Medieval Studies - Erin Connelly (University of Pennsylvania), Alberto Campagnolo (Library of Congress), and Heather Wacha (University of Wisconsin, Madison).
The team is gathering imaging data as a first foray into providing a fixed dataset that will characterize stains commonly found on manuscripts and provide new approaches for understanding the material makeup and uses of these medieval manuscripts.
Four institutions, the University of Wisconsin, the University of Iowa, the University of Pennsylvania, and the Library of Congress, have generously offered their manuscript collections for imaging and the Postdoctoral Fellows have been busy identifying the "dirtiest" books with the "best" stains.
This project is supported by a Postdoctoral Fellowship microgrant from the Council on Library and Information Resources (CLIR). The grant is made possible by funding from The Andrew W. Mellon Foundation with expert collaborators from the US Library of Congress and R. B. Toth Associates.
RSVP to observe the imaging process, view rare manuscripts up close, and talk with the researchers.
Friday, December 15, 2017 at 11:00am to 4:00pm
University of Iowa Main Library, One Button Studio
125 West Washington St. Iowa City, IA 52242-1420
Event Type

Audience

Departments

Tags

Website
Cost

Free of charge; RSVP to attend at http://bit.ly/stain-alive-uiowa

Hashtag

Contact Name

Heather Wacha

Contact Email

Subscribe