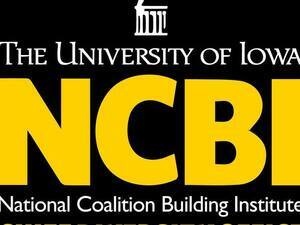 NCBI: Leadership for Equity and Inclusion
This model was developed by the National Coalition Building Institute (NCBI), an organization devoted to eliminating all forms of prejudice throughout the world. The training is highly interactive and is definitely not your typical "diversity training." Participants will be prompted (to the extent each are comfortable) to engage in self-reflection and sharing, to practice talking about the messages we internalize about our own and others' groups, to correct misinformation through "caucus" sessions, to learn through the sharing of personal stories and experiences, and to begin practicing how to respond to hurtful jokes, comments, and slurs.
This course is eligible for BUILD credit. The Building University of Iowa Leadership for Diversity (BUILD) certificate is an initiative of the Chief Diversity Office that gives UI faculty and staff the opportunity to gain strategic knowledge and skills to contribute to a welcoming and inclusive campus environment. The certificate is earned by completing one core course and five electives. To learn more about the BUILD initiative and how to enroll visit: http://diversity.uiowa.edu/programs/build.
*Note: Individuals who have already completed this workshop may email diversity@uiowa.edu to obtain credit towards the certificate.
Sign-up is available for employees through Employee Self-Service/My Training. To locate certificate courses search for "BUILD," "NCBI," and "Safe Zone" and a list of eligible courses will appear.
Individuals with disabilities are encouraged to attend all University of Iowa sponsored events. If you are a person with a disability who requires an accommodation in order to participate in this program, please contact Dana Dominguez in advance at 353-2388 or by email at dana-dominguez@uiowa.edu.
Friday, June 2, 2017 at 9:00am to 4:30pm
University Capitol Centre, 1117 UCC
200 South Capitol Street, Iowa City, Iowa
Event Type

Audience

Departments

General Interest

Website
Contact Name

Diversity Resources Team

Contact Email

Contact Phone Number

319-353-2388

Subscribe