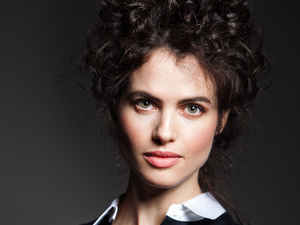 Neri Oxman Lecture: Everything is Connected
Join the University Lecture Committee, the Office of Research and Economic Development, Theme Semester, John Pappajohn Entrepreneurial Center, and Women in Science and Engineering (WISE) for a lecture presented by Neri Oxman on the innovation in design.

Architect and designer Neri Oxman is the Sony Corporation Career Development Professor and Associate Professor of Media Arts and Sciences at the MIT Media Lab, where she founded and directs the Mediated Matter research group. Her team conducts research at the intersection of computational design, digital fabrication, materials science and synthetic biology, and applies that knowledge to design across disciplines, media and scales—from the micro scale to the building scale. Oxman's goal is to augment the relationship between built, natural, and biological environments by employing design principles inspired and engineered by Nature, and implementing them in the invention of novel design technologies. Areas of application include architectural design, product design, fashion design, as well as the design of new technologies for digital fabrication and construction.

Oxman coined the term, and pioneered the field of, Material Ecology, which considers computation, fabrication, and the material itself as inseparable dimensions of design. In this approach, products and buildings are biologically informed and digitally engineered by, with and for, Nature.

Oxman's work is included in permanent collections at the Museum of Modern Art (MoMA), the San Francisco Museum of Modern Art (SFMOMA), Centre Georges Pompidou, the Boston Museum of Fine Arts (MFA), Cooper Hewitt Smithsonian Design Museum, the Smithsonian Institution, the Museum of Applied Arts in Vienna (MAK), the FRAC Collection and the Boston Museum of Science, amongst others including prestigious private collections.

This event is free and open to the public. Participants are encouraged to take five minutes to complete the Our Lives Online Theme Semester Survey to become eligible to receive prize giveaways this semester.

Individuals with disabilities are encouraged to attend all University of Iowa sponsored events. If you are a person with a disability who requires an accommodation in order to participate in this program, please contact Sarah Tortora in advance at sarah-tortora@uiowa.edu.
Thursday, April 20, 2017 at 7:30pm to 8:30pm
Iowa Memorial Union (IMU), Main Lounge
125 North Madison Street, Iowa City, Iowa
Event Type

Audience

Departments

General Interest
Hashtag

Contact Name

Sarah Tortora

Contact Email

Subscribe